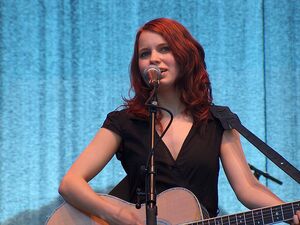 Marit Larsen is a singer and upcoming actor. The first movie she will appear in is Ice Age 4 as Shelly.
Discography
Don't Say You Love Me (1999/2000)
Mirror, Mirror (2000)
The Day You Went Away (2000)
Pretty Boy (2000)
Everything You Do (2000)
Girl in Your Dreams (2000)
Everything (2002)
What You Do About Me (2002)
Wanna Be Where You Are (2002)
Under the Surface (2006)
Don't Save Me (2006)
Only a Fool (2006)
In Came the Light (2006)
Solid Ground (2006)
This Time Tomorrow (2006)
Recent Illusion (2006)
The Sinking Game (2006)
To an End (2006)
Come Closer (2006)
Poison Passion (2006)
This Is Me, This Is You (2008)
Ten Steps (2008)
Steal My Heart (2008)
Is It Love (2008)
Fuel (2008)
Addicted (2008)
Fences (2008)
I've Heard Your Love Songs (2009)
The Chase (2009)
(2009)
If a Song Could Get Me You (2009)
Filmography
Ad blocker interference detected!
Wikia is a free-to-use site that makes money from advertising. We have a modified experience for viewers using ad blockers

Wikia is not accessible if you've made further modifications. Remove the custom ad blocker rule(s) and the page will load as expected.