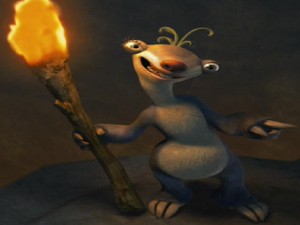 Lalya Zee (as credited in the gameboy game of Ice Age 2) is a female mini-sloth from
Ice Age: The Meltdown
and
the video game of the same name
. She is voiced by
Clea Lewis
. Her name was told in the Gameboy Advanced Game of Ice Age: The Meltdown.
She is the only Mini-sloth that is in the movie and both video games. She is also the only only one in both that has her name told.
The other mini-sloths with names are: Wooden Sloth, Jospeh Loafer, Patton Asphalt, Reginald Windbag the Third, Sly Gish, Josie Loafer, Cyble Shuffle, Margie Molasses and Draggin' Draga, but they don't appear in the movie or computer game.
Ad blocker interference detected!
Wikia is a free-to-use site that makes money from advertising. We have a modified experience for viewers using ad blockers

Wikia is not accessible if you've made further modifications. Remove the custom ad blocker rule(s) and the page will load as expected.