Ice Age: Collision Course
Talk

1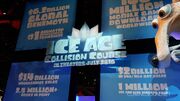 Ice Age: Collision Course is an upcoming 2016 American 3D computer-animated film produced by Blue Sky Studios. It is the fifth installment in the Ice Age film series and a sequel to 2012's Ice Age: Continental Drift. The film is scheduled for release on July 22, 2016, by 20th Century Fox.
Synopsis
join manny sid diego and friends as all kill pirates and dinos - flynn lone gunslinger and fast tony and the ice age animal trap to save elks rhinos tigers mammoths sloths dinos
Voice Cast
Ray Romano as Manny
John Leguizamo as Sid
Denis Leary as Diego
Chris Wedge as Scrat (non-speaking)

TBA as Scrat (speaking) (rumored)

Queen Latifah as Ellie
Seann William Scott and Josh Peck as Crash and Eddie
Jay Leno as Fast Tony (rumored)
Adam Young (rumored)
Felix "PewDiePie" Kjellberg (rumored)
Simon Pegg as Buck (rumored)
Josh Gad as Louis (rumored)
Will Arnett as Lone Gunslinger (rumored)
Keke Palmer as Peaches (rumored)
Nick Frost as Flynn (rumored)
Jenna Coleman as Sylvia (rumored)
kids as elks rhinos tigers mammoths sloths dinos [ that save from bad dinos and pirates ] - snow bonycaps hippo dinos diving birds fly dinos bears hippopant trexes troodons foxes chimp dinos condors osriches - tropical jungle wild land and rainforest
shangri llama
teddy rabbit
Production
After the release of Ice Age: Continental Drift, John Leguizamo, the voice of Sid, said of the fifth installment in the Ice Age franchise: "It sounds like they're working on something. So hopefully the answer is YES, but I cannot say for sure.
On December 20, 2013, 20th Century Fox scheduled the film for July 15, 2016.
A promotional poster, shown in June 2015, at the Licensing Expo, revealed the film's full title: Ice Age: Collision Course
In August 2015, the film was rescheduled for July 22, 2016 to avoid completing against the "Ghostbusters" reboot
islands
brookside
hildenborugh
long leat
paultons park
rio
united kingdom
wales
winghan wildlife park