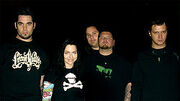 Evanescence is a band that started in and has released several songs since 2002. The band was started by Amy Lee and Ben Moody.
Members
The Current Memberts are Amy Lee, Terry Balsamo, Tim McCord amd Will Hunt. The former members are Ben Moody, David Hodges, Rocky Gray, John LeCompt and Will Boyd.
Songs
Everybody's Fool
Going Under
Like You
Missing
Haunted
Whisper
Litium
Tourniquet
Bring Me to Life
My Immortal
Ad blocker interference detected!
Wikia is a free-to-use site that makes money from advertising. We have a modified experience for viewers using ad blockers

Wikia is not accessible if you've made further modifications. Remove the custom ad blocker rule(s) and the page will load as expected.