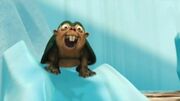 Billy
is a young glyptodont shown in Ice Age: The Meltdown at
Sid's camp
joining
James
in picking on
Sid
, pulling on a vine with his mouth to hold Sid up and use him as a piñata. As Sid told his friends that the young animals at the camp were fond of him, he asked Billy if he agreed, but Billy just mocked him by saying "Don't make me eat you." Billy was also shown during the migration, panicking among other animals when they realized the dam had burst.
Billy is voiced by Caitlin Rose Anderson, who also voiced Ashley.
Ad blocker interference detected!
Wikia is a free-to-use site that makes money from advertising. We have a modified experience for viewers using ad blockers

Wikia is not accessible if you've made further modifications. Remove the custom ad blocker rule(s) and the page will load as expected.